Imagine you're a local winery owner (maybe you already are so this won't be that hard for you!). The culmination of the seasons toil and labor in the vineyards is finally coming to fruition as the harvest season begins. The grapes arrive in large white bins by the truckload as your crew of cellar hands and seasonal workers stand by to process the incoming fruit. Your forklifts, pumps and grape press stand are ready to perform their annual duty of processing the massive amounts of fruit arriving by the minute. Everyone and everything is ready for the long task ahead and both excitement and anxiety is running high: This is the moment of truth and everything you're team has been working toward all season hinges on this very moment. The first bin is tipped into the hopper and the press begins to extract the sweet red juice from the ripe berries. All of the sudden there is a groan from the machines and smoke begins to boil out of the large compressor filling the press! Then it all stops. Panic sets in as the fruit continues to be delivered: soon there won't be room to store it all! Enter the nightmare of a harvest gone wrong…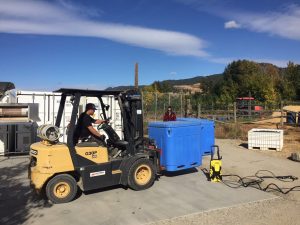 The Equipment Failure Nightmare Continues…
Now imagine you need to call a
good local electrician
to come get it up and running. Do you know a GOOD local electrician, or do you just smile-and-dial your way through the Yellow Pages? Is anyone available? Is it after hours? Is it a weekend or a civic holiday perhaps? You call several electrical contractors in the Okanagan, but most don't even pick up and the few who do, are too busy and can't help you for at least a week. But you need service today, so what do you do? Well in the recent case of
Kanazawa Wines
, it was pretty easy, almost TOO easy in fact. But we'll get to that later, first a bit of background on this great local winery.
Winemaker Underdog Succeeds Against The Odds
Winemaker Richard Kanazawas' humble beginnings in the wine industry started as a delivery man for
Domaine de Chaberton Winery
in Langley, BC. From there he went to Australia and took his first swing at making wine (while also playing some good old Aussie rugby, another of his passions). Upon returning to Canada, he moved to the Okanagan Valley and took a job as winemaker for the newly built
Red Rooster
on the Naramata Bench. Several medals later, he moved on and continued to hone his craft at
Blasted Church
. They too were handsomely decorated with awards for Richards fine wine. Finally in 2010, Richard and his wife, Jennifer, took the leap of faith and made their first vintage of wines under their own label. They didn't have a proper winery per-se, so they begged and borrowed wine making equipment and tank space wherever they could. After years of renegade winemaking in this fashion, Richard final secured a toe hold on the
Naramata Bench
to call his own. In 2016,
Kanazawa Wines
officially opened its doors and began pouring their remarkable wines for an expectant audience of wine enthusiasts.
Electrical Problem? What Problem?
Did we mention earlier that when Richards compressor failed him he barely broke sweat? He's a pretty cucumber-cool dude for sure, but failing winery equipment is sure to rattle the most veteran of winemakers.
Certainly that would have been the case had Richard not been one of our very special
Commercial Service & Warranty
customers. When Richard
called Pilot Electric
 to explain the problem, we assured him he would be up and running as soon as possible! In fact, because he was a
Commercial Service & Warranty customer
, he was automatically put to the front of the queue with our
Priority Line, Same Day Service Guarantee
. But wait, it gets better! Pilot Electric Services doesn't just warranty our own work, the repair to the compressor was also covered. Yup, thats right, a piece of equipment we'd hardly ever touched was completely covered. The equipment was back up and running in less than a couple hours and the whole thing didn't cost them a cent; it was simply all just a part of the
amazing service delivered by Pilot Electric
. 
Culprit of the equipment failure shown here.
Even better still, we'll be calling them next August to schedule their
Annual Preventative Maintenance Check
BEFORE the harvest begins. Harvest crisis averted: Roger That! Again, its all covered under our
Industry Leading Commercial Service & Warranty Plan
and is just another of the many ways Pilot Electric
stands behind our customers
.
If you're a small business owner OR a homeowner, and would like to find out more about our fantastic
Service & Warranty Plans
,
please contact us at anytime
. We're here to help.
Pilot Electric Owner's Tribute to Tenacity
During the several years I have worked for Richard as his electrician, I have come to both respect his work ethic and admire his tenacity. He is truly a grassroots winemaker and has achieved the near impossible, elbowing his way into the Naramata Bench alongside millionaire winery owners and beverage giants, such as
Andrew Peller Limited
. Richard did it all on his own terms and with no financial backing. On behalf of everyone at
Pilot Electric Services
, I salute you Richard, your achievement stands as testament to the will to succeed and the power to realize our dreams.
– Robin Fredrickson, Owner
(PS. did I also mention that Richard insists on playing a solid stream of old-school hip-hop in his tasting room at all times? I have a really hard time finding anything NOT to like about this guy!)